Welcome to my shop!
Here you'll find items made, created, designed or produced by me. You can order them from anywhere in the world and enjoy them in any way you want.
---
Browse: Beneath each item you'll see a number of dots, click them to view other colors or angles of the item.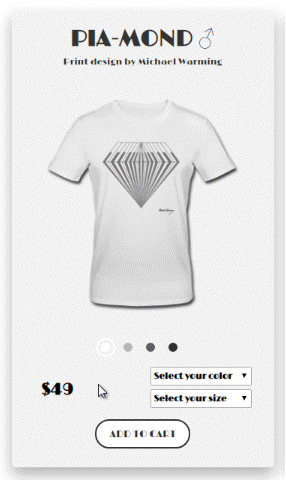 Product info: Click the picture of any item to get more detailed information about it.
Purchase:
This works just as usual on the web!
1.
Add your item(s) to cart. Adding an item will take you directly to your cart. If you wish to continue shopping, just close the cart or click "continue shopping" in the top right corner.
2.
Open your cart by clicking "View cart" in the top right corner of my website. Item quantity can be changed from there.
3.
Select "Check Out", fill out the necessary information (payment method, delivery address, contact email) and click "Pay Now".
Important: Make sure your cart items has the right colors/sizes by clicking "more" beneath each item in the cart. If any of the properties are incorrect; remove the item from your cart and add it again from the shop, with the desired properties selected.
---
FAQ
- Frequently Asked Questions
Q:
Can I order without a PayPal-account?
A:
Yes! My payment service is just hosted by PayPal. In the shopping cart there's an option to "check out" using your everyday credit/debit card.
Q:
Where can I download your music?
A:
You can't. But you can stream it free from ads and charges on here :)
Ask your question!
---
Follow me on social media to keep track of new releases and follow my work flow!